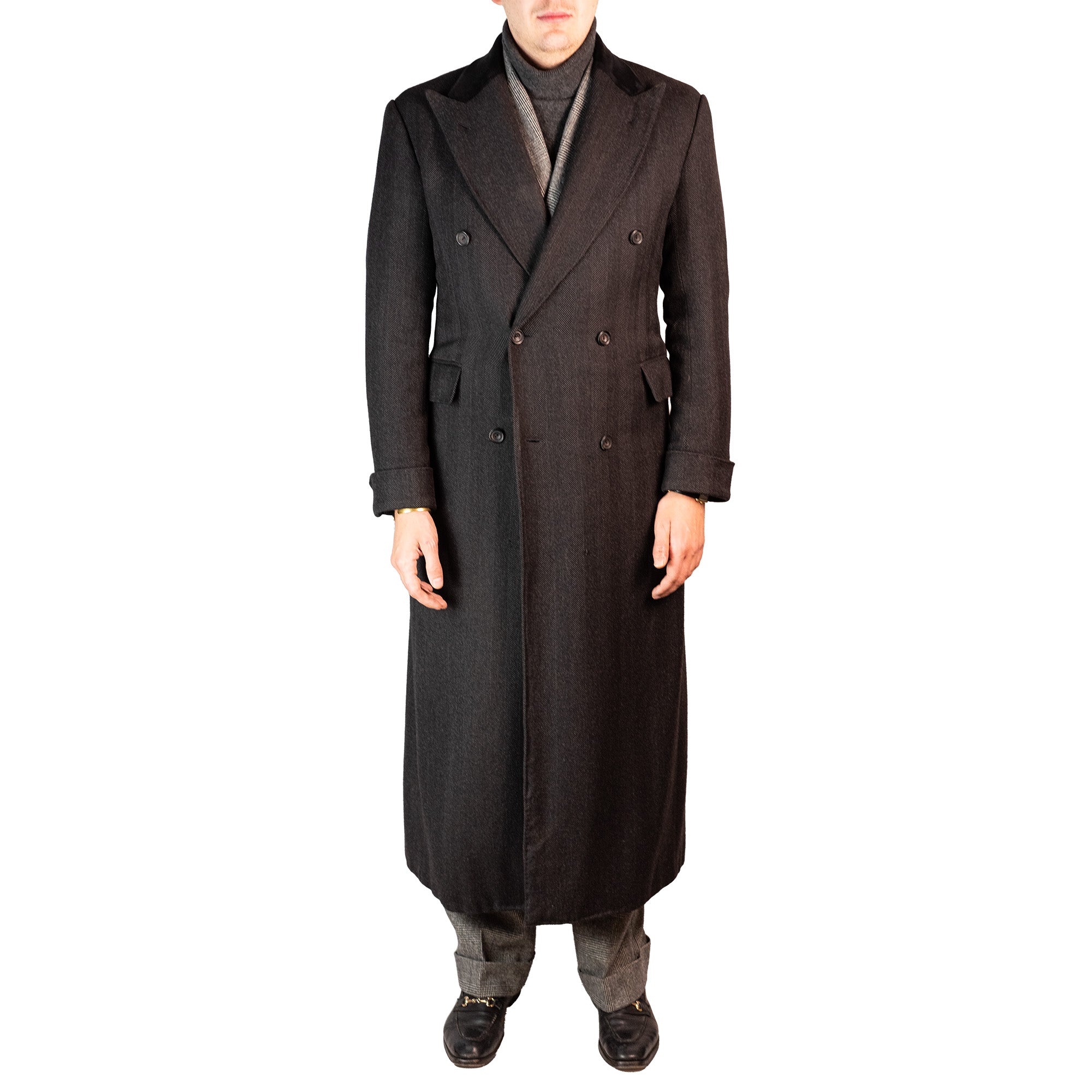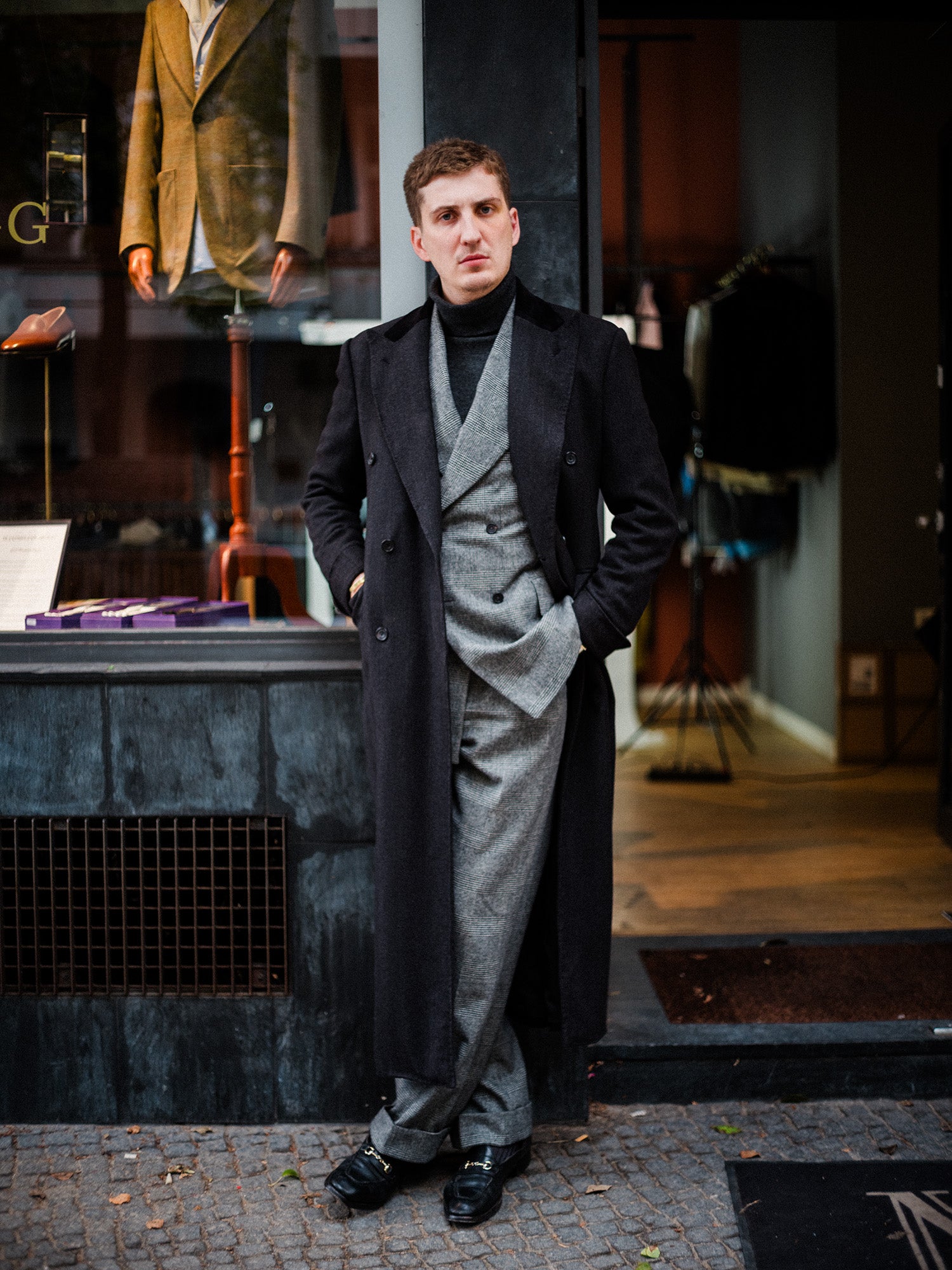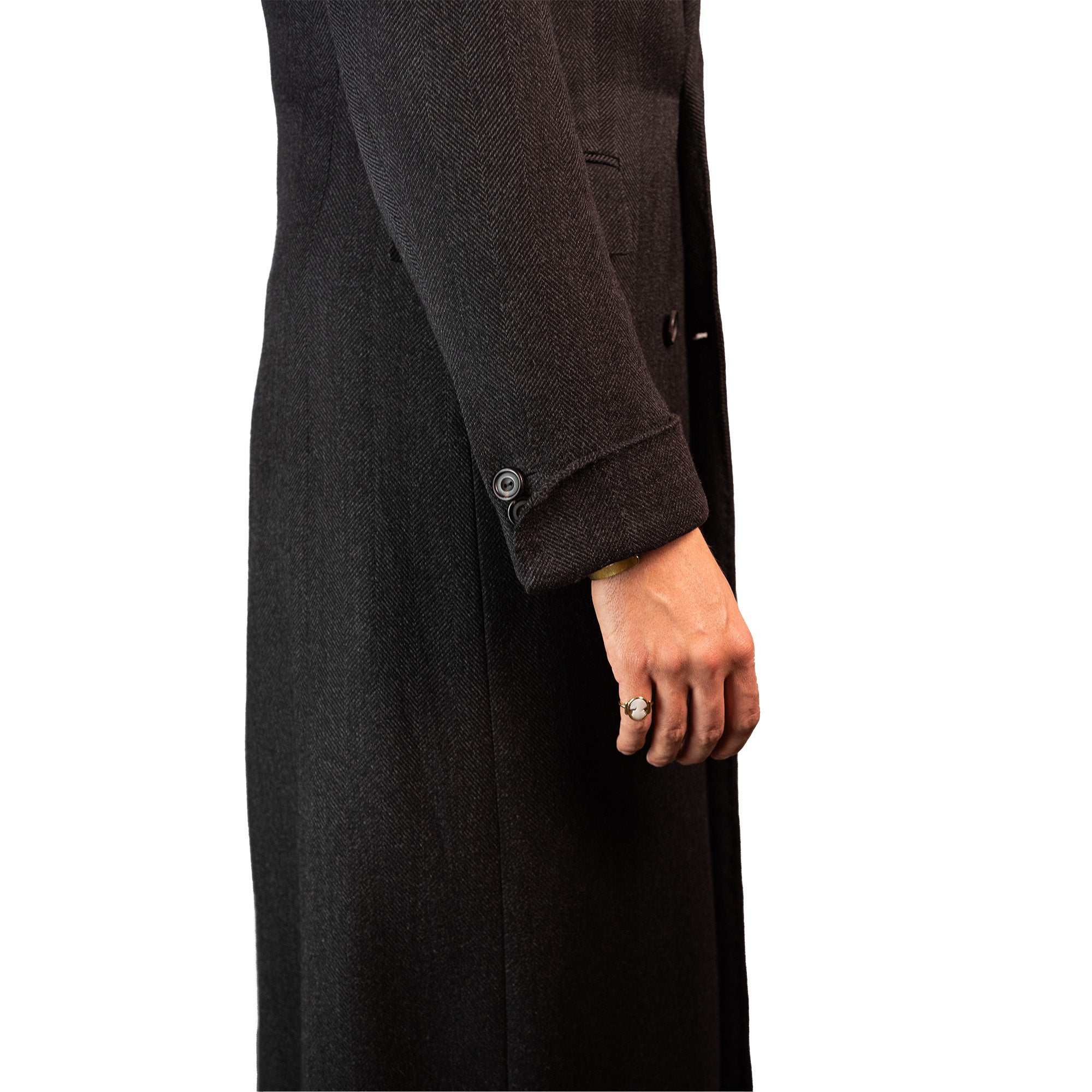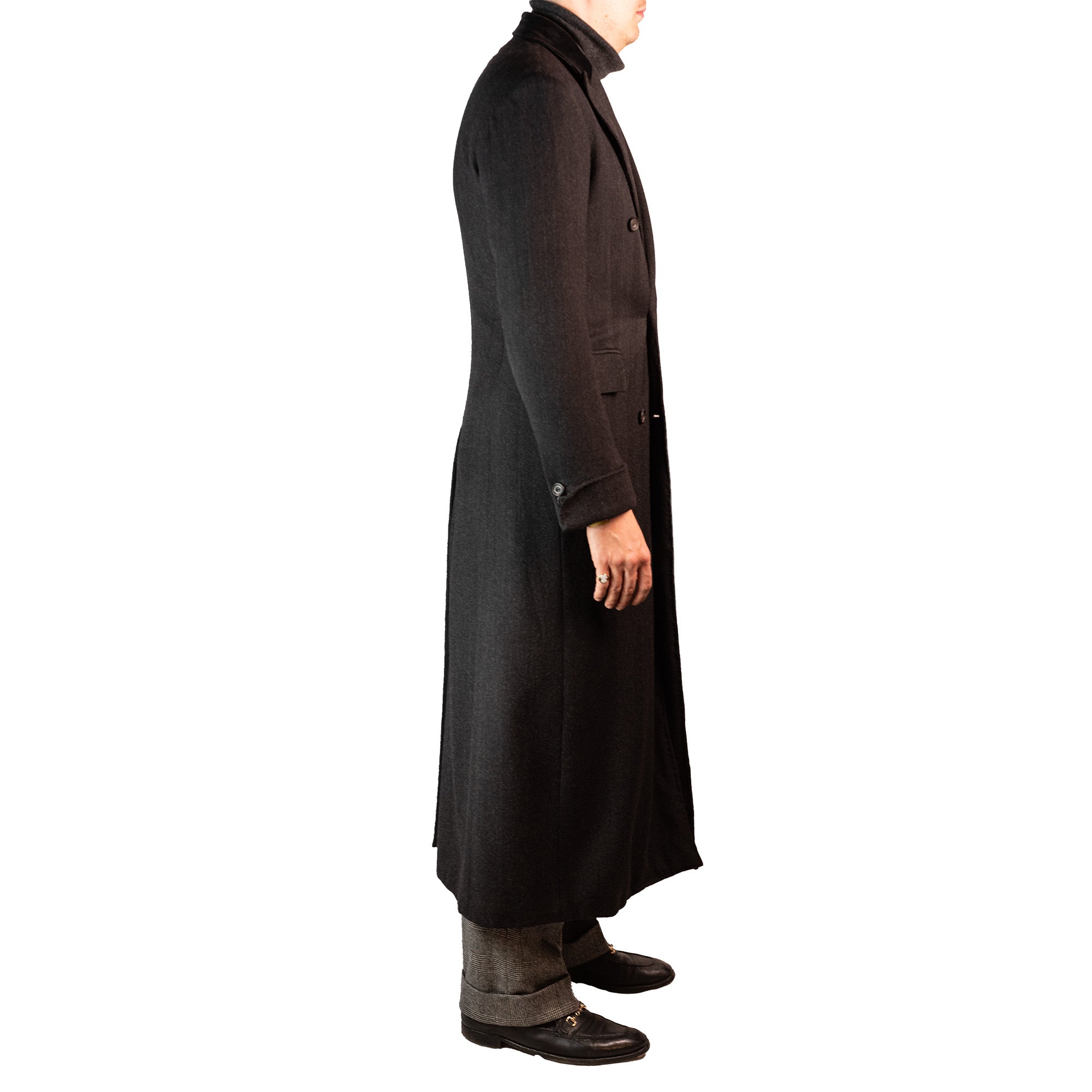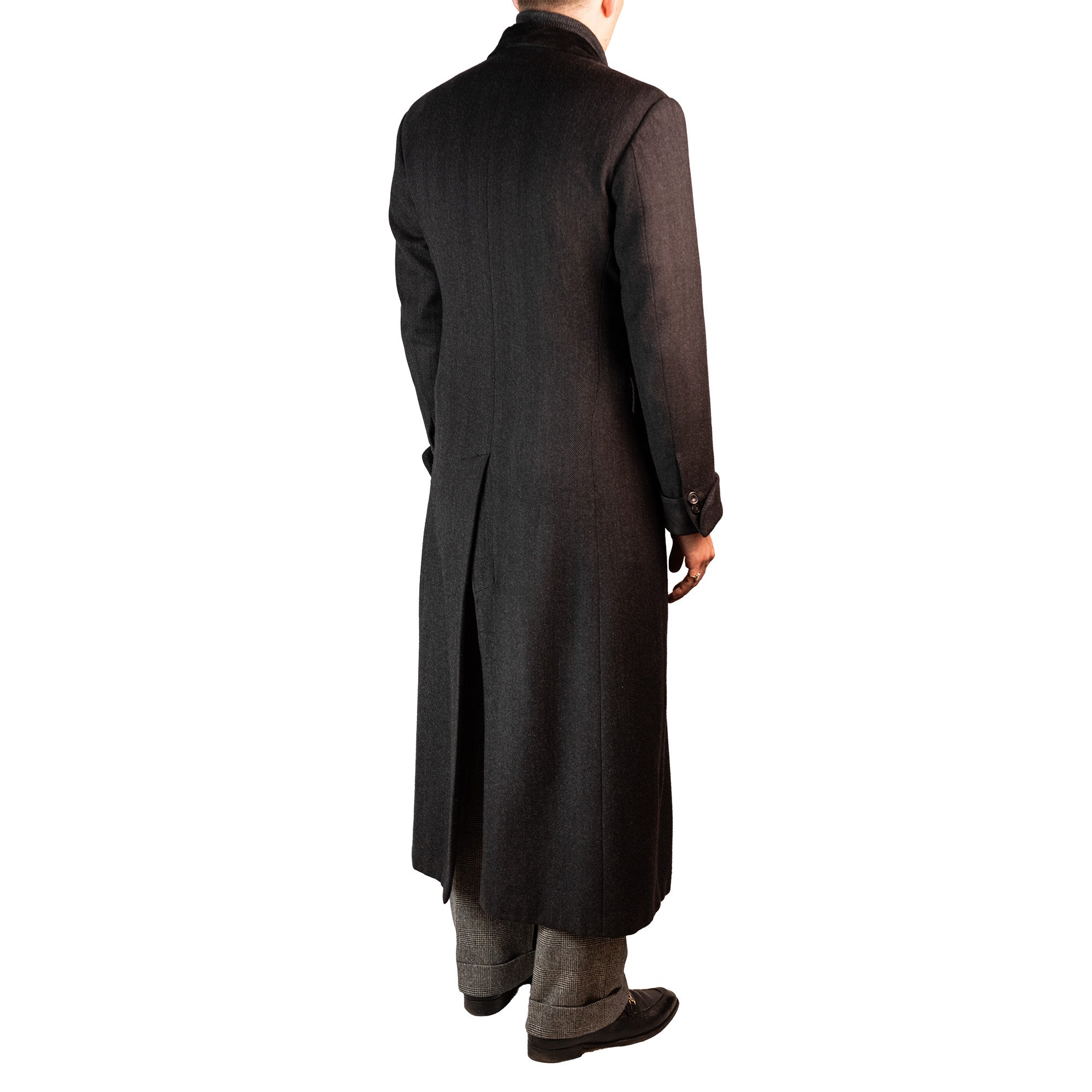 Overcoat - Charcoal Herringbone by Loro Piana
Our Chesterfield overcoat is a very loyal companion: it goes as much with a dinner jacket, any kind of elegant longe suit as it does with a pair of jeans and some colourful knitwear. Its waisted & long cut makes this one a clear statement piece: purest drama and sex appeal!
Overcoat:

- DB 6-2

- Roped shoulder

- Peak lapel

- 2 handmade lapel buttonholes

- Straight pockets

- 2 working sleeve buttons

- Centre vent

- Fully lined

- Striped sleeve lining


Material:

- Charcoal Herringbone 100% Wool 640g/m by Loro Piana

- Cupro lining
This product is Made-To-Order. The delivery time is approx. 6-8 weeks.
You can get this product, and many more, from us exactly according to your specifications and dimensions. Simply book an appointment with us in Berlin, Cologne or at a trunk show.
Our Overcoats
Our approach to overcoats is similar to that of our shirts and suits. Here, we'll go beyond aesthetics and explain the cut of our overcoats.
Shoulder
The shoulder-line is possibly the most distinctive part of a tailor's work. Our aesthetic is distinctly British. Much like our suits', our overcoats' shoulders are roped. However, they are cut slightly wider, so as to be comfortable when wearing knitwear and/or a jacket.
Armhole
The armholes of our overcoats are cut very high. Aside from its clear functional advantages, it also adds something to the aesthetic. The high armhole affords maximum comfort and freedom of movement while simultaneously stretching the silhouette to make the upper body look more slender. To further accentuate this slender look, we cut our sleeves rather slim, creating a true hourglass shape through the body.
Length
We love long overcoats and ours are cut unabashedly long. Other than the functional benefits of a longer overcoat, it also elongates the silhouette. Our ideal length covers the calf. That being said, we always apply our own formula to determine ideal length. The key element here is overall body type.
Back
A beautiful overcoat must have a beautiful back. We cut the back as slim as possible without restricting freedom of movement. This is one of a good tailor's most important tasks.
Front
To keep out inclement weather, our button stance is somewhat higher than on our jackets. However, this depends on the customer's personal preference and if the wearer is fond of scarves.
Lapel
Our silhouette has been described as being more traditionally feminine than masculine. This is why our wide lapels play a key role. Wider lapels serve to build up the look of the chest and balance out the overall look.